Connections & Indicators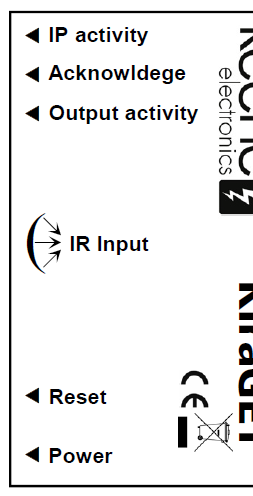 IP activity
Will flash once every 5 seconds when a network connection is established and also whenever IR data is received. If flashing twice per second then no network connection can be established.

Acknowledge
Will illuminate when a successful reply is received from the htpp destination.
Output activity
Will flash whenever data is received either by IR or RS232.
Reset Button
If you get a problem with one of the modules, pressing the reset switch until the acknowledge light comes on will reboot the module with the current settings. Can also be used for a full factory reset as detailed on the reset link opposite.
Power LED
Should always be illuminated whenever power is connected. Don't expect much to happen if it's not.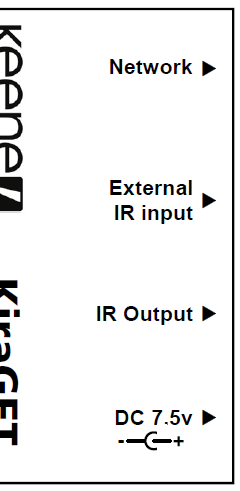 Network
Should be connected to a hub, switch or router on the same LAN as the system(s) you wish to control.
External IR input
To connect to an optional external receiver. If used remember to disable the on-board IR receiver.
IR Output
Connect to an IR emitter if IR pass-through is required. Please see "Optional Accessories".
Power
Requires a minimum of 7v and maximum of 9v DC (regulated) at 200mA or greater, 2.1mm DC socket, centre positive.