First steps - finding the module
Assuming that you have your module has power and is connected to your network correctly the next step is to access the built-in web pages and configure it as required.
The default factory setting is for DHCP to be enabled so the module will request an IP address from your router. In order to find the IP address assigned by your router it is recommended to use the Java Utility program. The program can be freely downloaded here
Note - If the module is unable to obtain an IP address via DCHP the factory default IP address is 192.168.1.37.
Unzip the downloaded file into a folder of your choice and browse to the "Java utility" program folder. Within this folder click on "kira.exe" (if using Windows) or "kira.jar" (if using a Mac).
Note - no installation is required, the program will just run.
The Java Utility program will scan your network and report back any compatible Keene KIRA modules that it finds.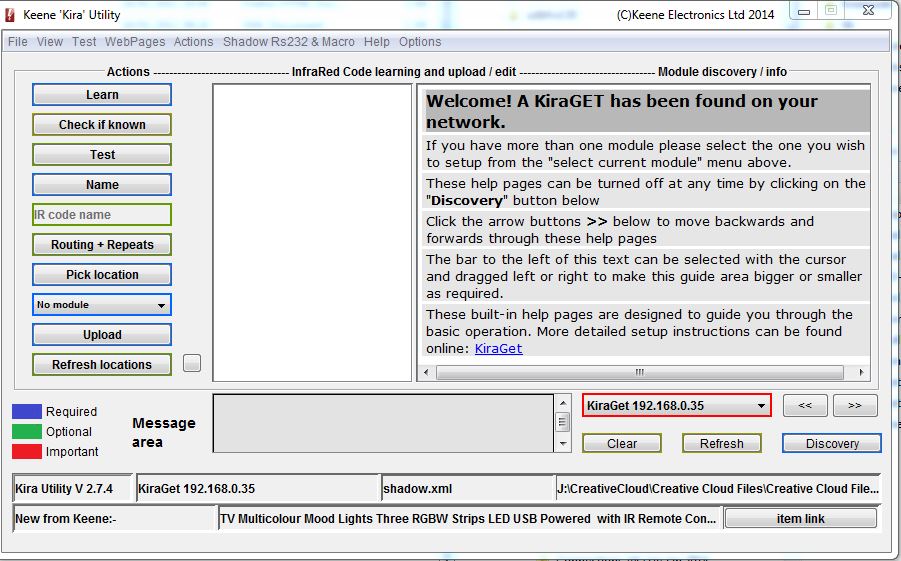 If your module has been found on the network you should see a "welcome" message in the right hand window and the IP address below. If there is more than one KIRA module on the network you click the down arrow to the right of the IP address and select from the drop down list.
We will cover the utility program in more depth in the "Storing the codes" section but for now we will move onto the module configuration. To proceed you can now enter the IP into your browsers address bar, or from the Java program select "web pages" from the top menu and then "open module home page".
It is also possible to connect to the module by typing the host name into your browser address bar. If still at factory default this will be
http://KIRAGET
(note the lack of "www")