Connections & Indicators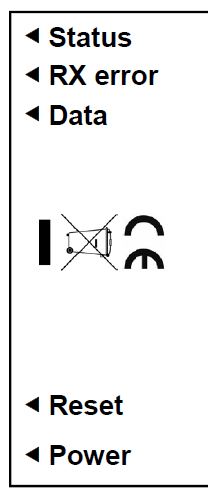 Status LED
Will flash:
Twice per second = looking for a compatible Sky system on the network
Once every five seconds = found a compatible Sky system on the network.

RX error
Will illuminate red if no compatible Sky system is located on the network. In normal operation this should not be illuminated so check settings.
Data
Will flash whenever data is received either by IR or RS232.
Reset Button
If you get a problem with one of the modules, pressing the reset switch until the acknowledge light comes on will reboot the module with the current settings. Can also be used for a full factory reset as detailed on the reset link opposite.
Power LED
Should always be illuminated whenever power is connected. Don't expect much to happen if it's not.

Network
Should be connected to a hub, switch or router on the same LAN as the Sky system(s) you wish to control.
RS232 Input
Jack socket to connect the supplied KLD80 9 pin serial cable.
IR Input
To be connected to a Keene IR Receiver (one is supplied as standard and several models are available) or it can also be directly connected to the IR Blaster output of other equipment. Direct cabled connection requires the use of a KIRT IR Translator not supplied as standard, please see "Optional Accessories".
Power
Requires a minimum of 7v and maximum of 9v DC (regulated) at 200mA or greater, 2.1mm DC socket, centre positive.