Overview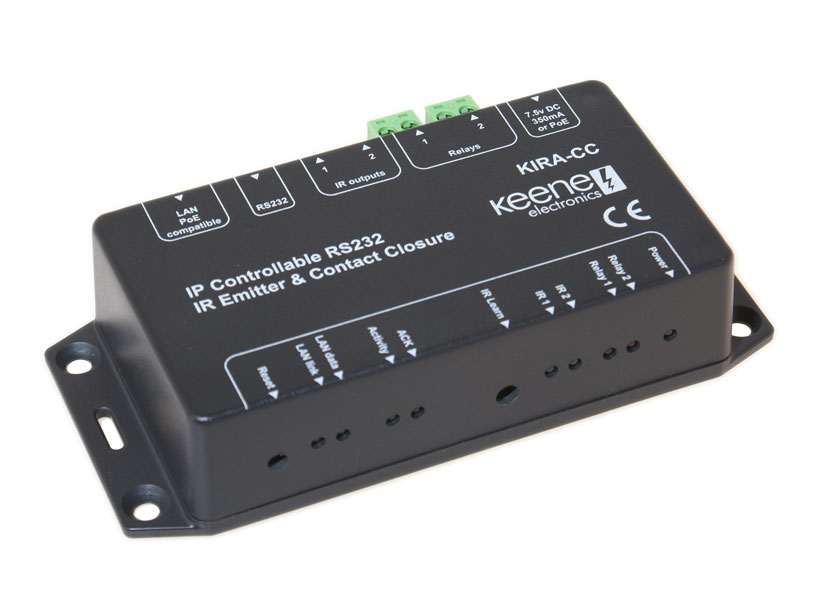 The Keene KIRACC Contact Closure module provides a number of ways to control devices via local network and the internet. Commands can be issued simply by accessing the built in web pages via any device with a browser, and the open API structure means it can integrate seamlessly with a number of other IP control systems and apps for tables and smart phones.
Key features:
Infra Red
Infra Red over IP – either real time IR transmit used in conjunction with another KIRA module, or use IP control to blast any of the 150 IR codes stored within the on-board memory
Two IR emitter outputs, individually routable
20 macro commands, each up to 30 steps
Built-in dedicated high accuracy IR code learning receiver.
Contact Closure
Two isolated relay contacts, each rated at 48V 6A.
The relays can be set to open, close or pulse with configurable timings.
Both relays feature pluggable Phoenix connectors for easy installation.
RS232
Contains a TCP/IP to RS232 server that can be used as an RS232 / TCPIP bridge.
RS232 strings can be stored into on-board memory and triggered by IP from an app or as part of a macro.
Power
Built in Power over Ethernet (PoE) capability
TCP/IP

Can act as a UDP target for IR Anywhere modules
Built-in support for a dynamic DNS client to cater for non-static IP addresses